RealWear Developer Academy
JourneyApps Edition
August 23-25th, 2022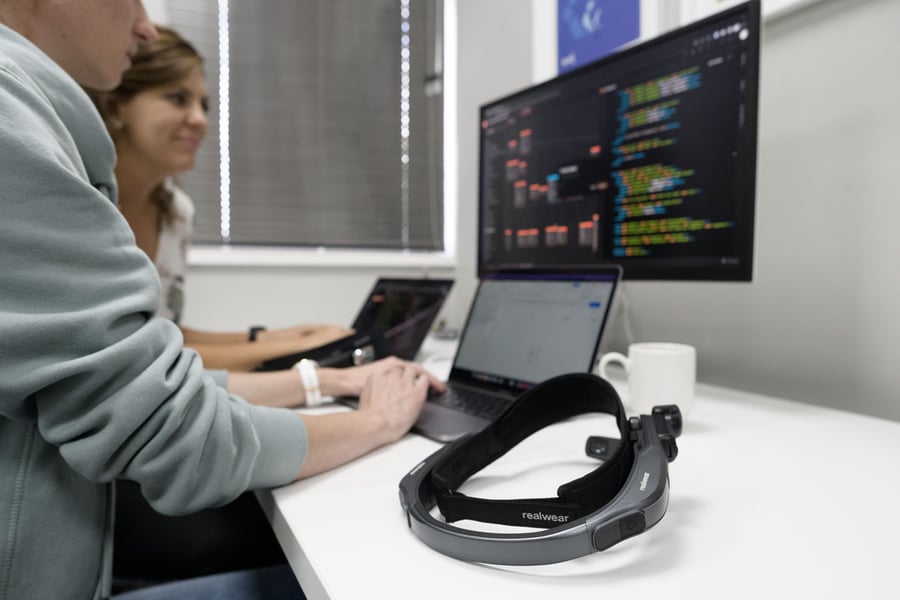 Learn to Develop Hands-Free Experiences with RealWear's Preferred Development Platform - JourneyApps
---
Developers love RealWear Academy
RealWear Developer Academy is a 3-day remote technical training workshop focused on developing voice-controllable apps for RealWear devices. Highly interactive, hands-on webinars are led by engineering and training professionals.
Why JourneyApps is the preferred development platform for RealWear
RealWear now endorses JourneyApps as the preferred development platform for a broad range of application types, as it is the fastest way to create and evolve high usability voice-driven apps that need to connect to existing back-end enterprise systems. JourneyApps can be used directly by developers at our customers looking to build bespoke RealWear apps as well as by our ISV partners looking to build their own RealWear apps to take to market.
Expand your proficiency
Active participants of all 3-days of the Academy will be granted a Certification of Completion.
---
Registration & Developer Kit includes:
1 Academy Access Ticket

RealWear Navigator™ 500, New in Box

Workband 2 accessory for the RealWear Navigator™ 500

Certification

Special Introductory Pricing: $2,000 ($3,100 value!)
Date & Time Zones (Open to all countries):
August 23-25, 2022

8AM - 11AM Pacific Time, United States
9AM - 12PM Mountain Time, United States
11AM - 2PM Eastern Time, United States
12PM - 3PM São Paulo, Brazil
4PM - 7PM London, United Kingdom
Logistics:
3 days, 9 packed hours of hands-on learning

Remote via reliable webinar platform
Pre-Req/Entrance Requirement:
A basic understanding of JavaScript or TypeScript

A basic understanding of databases and data modeling
---
Academy Agenda
Day 1
Class 1: Introduction to the Academy
Class 2: Fitting & Wearing/Device Configuration
Class 3: RealWear Explorer
Class 4: High-Level JourneyApps Platform Overview
Class 5: Practical: Build "Hello World" app


Day 2
Class 6: Practical: RW Inspection App (1)


Day 3
Class 7: Practical: RW Inspection App (2)
Class 8: Practical: Debugging on JourneyApps
Class 9: Deploying Applications & Next Steps
---